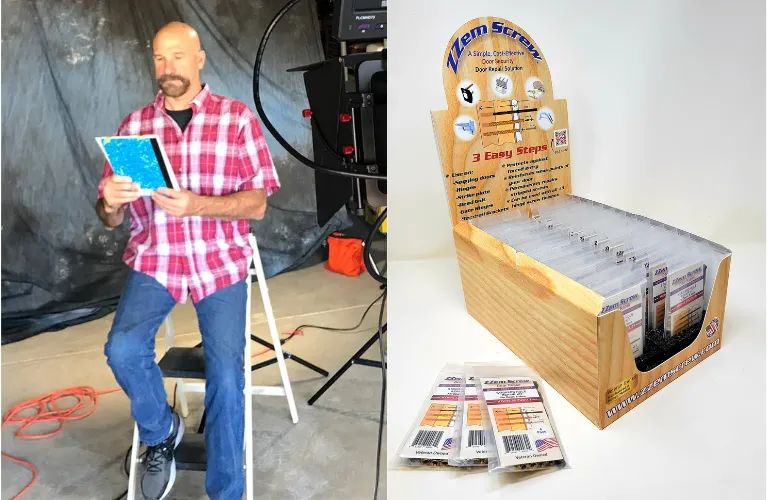 Q&A with Dean Doughtery, Inventor and CEO of ZZem Screw
Dean Dougherty is the Inventor, Patent Holder and CEO of ZZem Screw. ZZem Screw is a patented technology that extends the holding power of screws in hinges and latches deep into the door framing, reinforcing the weak points of your doors. It's the permanent (and simple) fix for stripped door hinges and securing your doors, protecting your home against unwanted forced entry.
With National Inventor's Day coming up on February 11, NHS spoke with the US Navy Veteran about ZZem Screw, the journey that led him to it and where the business is headed next.
What is ZZem Screw and what need does it meet in the marketplace?
ZZem Screw is a security and strip screw repair system for doors. It works by securing your strike plate, dead bolt and hinges a total of three inches into the frame of the house. ZZem Screw not only works to secure your home from forced entry but can save you countless hours in repairing stripped screws in your doors, handrail brackets, gate hinges, and gate latches – just to name a few.
And there's nothing in the market right now like it. When I first started ZZem Screw, there was no permanent fix or a repair for doors that was simple, easy and came in a complete kit. ZZem Screw is also designed to use the same OEM factory #9 hinge screw so if you have a different finish like bronze or stainless steel, you can use that same #9 hinge screw, matching your hardware finish.
How did you come up with the idea for ZZem Screw?
Before ZZem Screw, I was a building contractor for over 20 years, and had installed and repaired thousands of doors in my lifetime. About 10 years ago, I was living in Reno and ran into a friend who asked if I could help repair her front door – she had to lift it up in order to open it. I thought I'd go over, throw some long screws on it and fix it. Well, I ended up going over, and the door already had 3-inch screws stripped out completely. Normally I would put sticks and glue in the hole, let it dry and then put it back together – this process takes hours. I said to myself, "There's got to be a better way."
I looked into the market and there was nothing to solve for this. So, to me, that was a wide-open market. Shortly after, I drew my first 2-dimensional drawing of the ZZem Screw. It took quite a few years to get off the ground, and the process of bringing it to market was a totally new experience for me. But today, ZZem Screw is at such an exciting phase in our growth, and I think that has a lot to do with the fact that it meets such a specific and important need in the marketplace.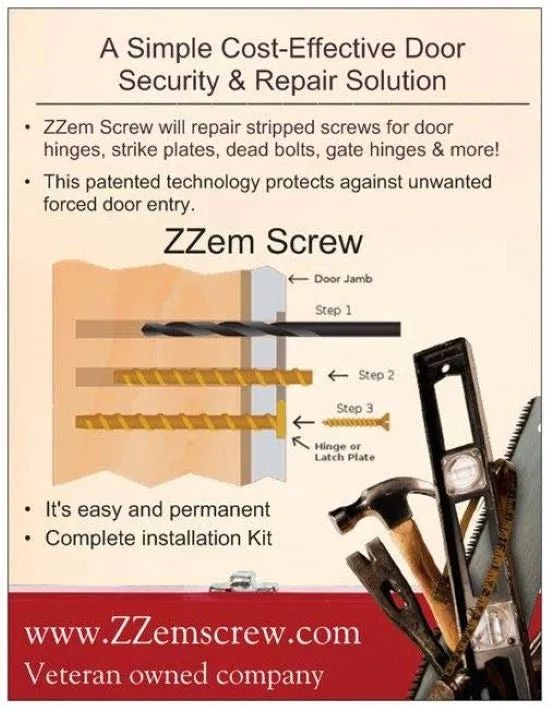 Why do you believe your customers love ZZem Screw?
I've designed ZZem Screw to make installation a simple process for homeowners, as well as industry professionals. Everything comes in the kit and it's very easy to install. Even for myself, with a long construction background, sometimes you don't have the right screwdriver tip or drill bit to get the job done. But ZZem Screw really makes the repair as easy as possible – all you need is the drill, and we supply the rest.
What is your favorite part about leading ZZem Screw?
We've gained some great traction over these last few years. We now have our own CNC Machines to manufacture in-house and inventory to sell, which has really helped with picking up distributors. Things are moving in a really positive direction for ZZem Screw, and it's an exciting time.
We are aware that you are US Navy veteran. First off, thank you for your service. Would you like to tell our readers more about your service work?
I come from a Navy family. My uncles, my dad and my oldest brother were all in the Navy… I had one brother who actually went into the Army because he didn't like the water as much as the rest of us did! I spent four years in the Navy on a repair ship where we took work orders from other ships. We had foundries, sheet metal and a welding fabrication shops on board the ship, so we could build and fix anything. It was a great learning experience that would set me up for my future career as a building contractor, and then as the inventor and CEO of ZZem Screw.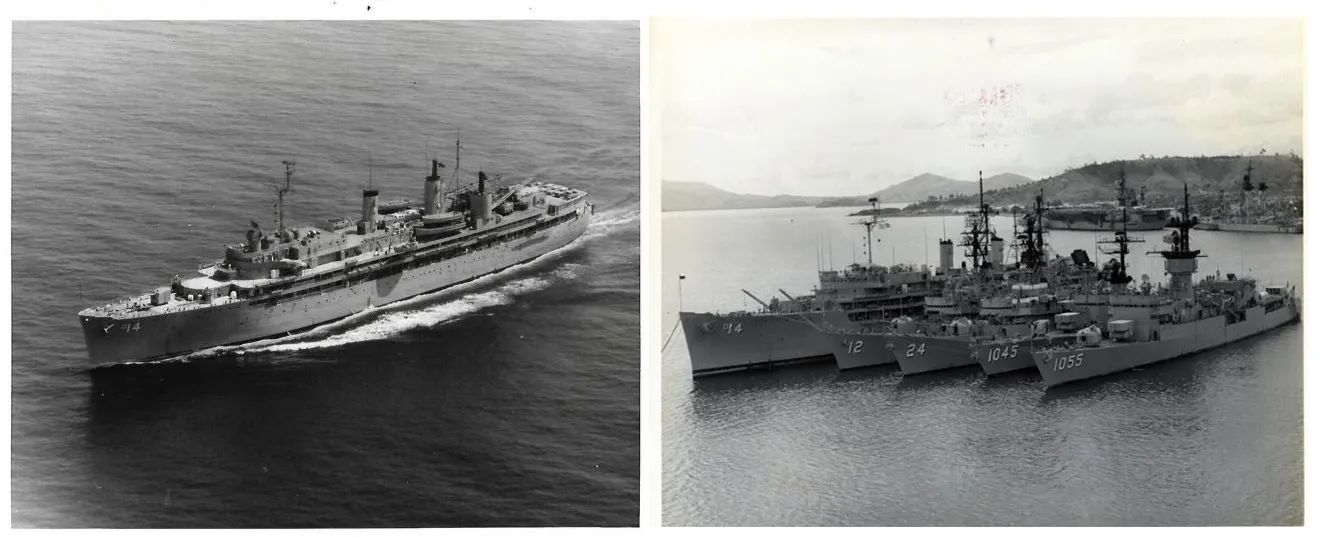 February 11 is National Inventor's Day. What advice do you have for fellow inventors?
Make sure you have a product people need – not just want. Do a lot of market research and testing before you start pumping time and money into something, only to find out it won't actually go anywhere. I've seen a lot of that with people who really believe in their ideas, but unfortunately, it just doesn't end up going anywhere.
Secondly, learn from your failures. I personally failed more times than I would care to admit. Nobody succeeds on their first try. But you learn from those mistakes.
What do you see as your greatest achievement?
My construction business did very well. Of course, there was the recession of 08' which kind of closed the door on that but opened up the door for ZZem Screw. ZZem Screw is on track to grow exponentially and will be one of my greatest achievements. I've got a great sales guy; we're getting into some bigger distributors and I'm happy overall with how things are going.
What's next for ZZem Screw?
ZZem Screw is designed to use the original #9 hinge screws because it's very popular, and probably in 90-95% of homes as far as the hardware goes. We're planning to branch out into the other wood screws that strip out, like the #8 and the #10 and #12 wood screws for the custom and commercial door industry. We'll eventually do cabinet screws for stripped out screws in cabinet hinges – another big problem our product can help solve for. We're also working on picking up more machines to increase production, to keep up with the demand.
Overall, this year has started off really well for us – we have just recently became a vendor for Orgill, a huge independent hardware distributor, and we're looking forward to picking up more, including the National Hardware Show this spring!