Patented technology that protects against forced entry
ZZem Screw is a simple and cost-effective door security solution. Out of an astonishing 2 million home burglaries each year in the USA, 60% gained access through the front door in seconds! (FBI Statistics). Most security technologies, like cameras and security lighting function AFTER the FACT. Most burglars don't care if you have a porch light or security camera.
ZZem Screw extends the holding power of screws in hinges and latches deep into the door framing, reinforcing the weak points of your doors. This revolutionary design will help protect you and your family.
How does it work?
See the graphic below which illustrates how the ZZem Screw (bottom) dramatically increases the depth of attachment of the hinge or strike-plate to the door frame. ZZem Screw can be used to reinforce hinges, strike plates, deadbolts, and more.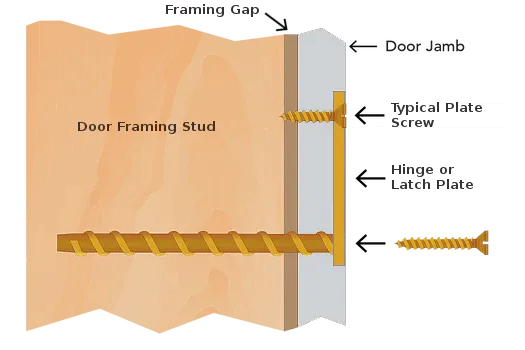 3" ZZEM SCREW
Withdrawal force
885 lbs
It takes 885lbs of force to remove a single 3" ZZem Screw.
1" X #9 Hinge Screw
WITHDRAWAL FORCE
109 LBS
It takes 109lbs of force to remove a single 1" X #9 Hinge Screw.
Withdrawal force multiplies! Each additional ZZem Screw installed increases the force required to remove it.
Reviews
5 out of 5 stars

Great solution, easy to install if you have a little sense. Reviewed in the United States on April 15, 2020 Item Package Quantity: 12Verified Purchase Great solution for blown-out hinge screw-holes. Used on a pantry door with a rack on the inside, probably weighs 50 pounds. Door is completely straight, no drag on the latch at all.

Chelsea Blance

All I can say is WOW WOW WOW

I tried the toothpick and golf tee, trick and non of them really worked or lasted long. I was destined to find a solution so I went on google and did some searching and I am across your product on Amazon. I was still a big skeptical but I bought it anyways. All I can say is WOW WOW WOW!! It worked perfectly and it's as strong as can be now. Such an amazing idea and solution to a common problem.

Joey F.

I wouldn't hesitate at all to try these out

Kudos to the creator of this product. It's high quality, made in America, and the packaging says it was invented by a veteran. That's a triple win in my opinion. I wouldn't hesitate at all to try these out.

Damon Keele

One of the best product

Worked perfectly!!! One of the best products I've bought, Would highly recommend and would definitely buy again.

Brian
Backyard Security
A backyard is normally a secluded location that gives burglars a way to get into a house without being detected, secure your gate latches and hinges with the ZZem Screw.
Prevent unwarranted access especially when only a good kick or shove may open the gate or back door. Take an easy 5 minutes and install the ZZem Screw.
Home Repair
The innovative new ZZem Screw takes care of an age-old problem in home repair: what can you do about sagging, hard-to-close doors caused by stripped or loose screws in door hinge or lock areas? We have all had this problem at one time or another, and now there is a fast and easy solution! This product provides affordable stripped screw repair in all doors throughout your home or business. Repairing stripped screws in hinge and lock areas is possible in just minutes.
Easy Installation
ZZem Screw repair kits include the correctly sized drill bit, Torx and Phillips bits, and screws — all you provide is a drill. With simplicity in mind, it's easy and permanent! Installation steps are described in the Installation video found on the home page as well.
Learn More about ZZem Screw From Founder, Dean Dougherty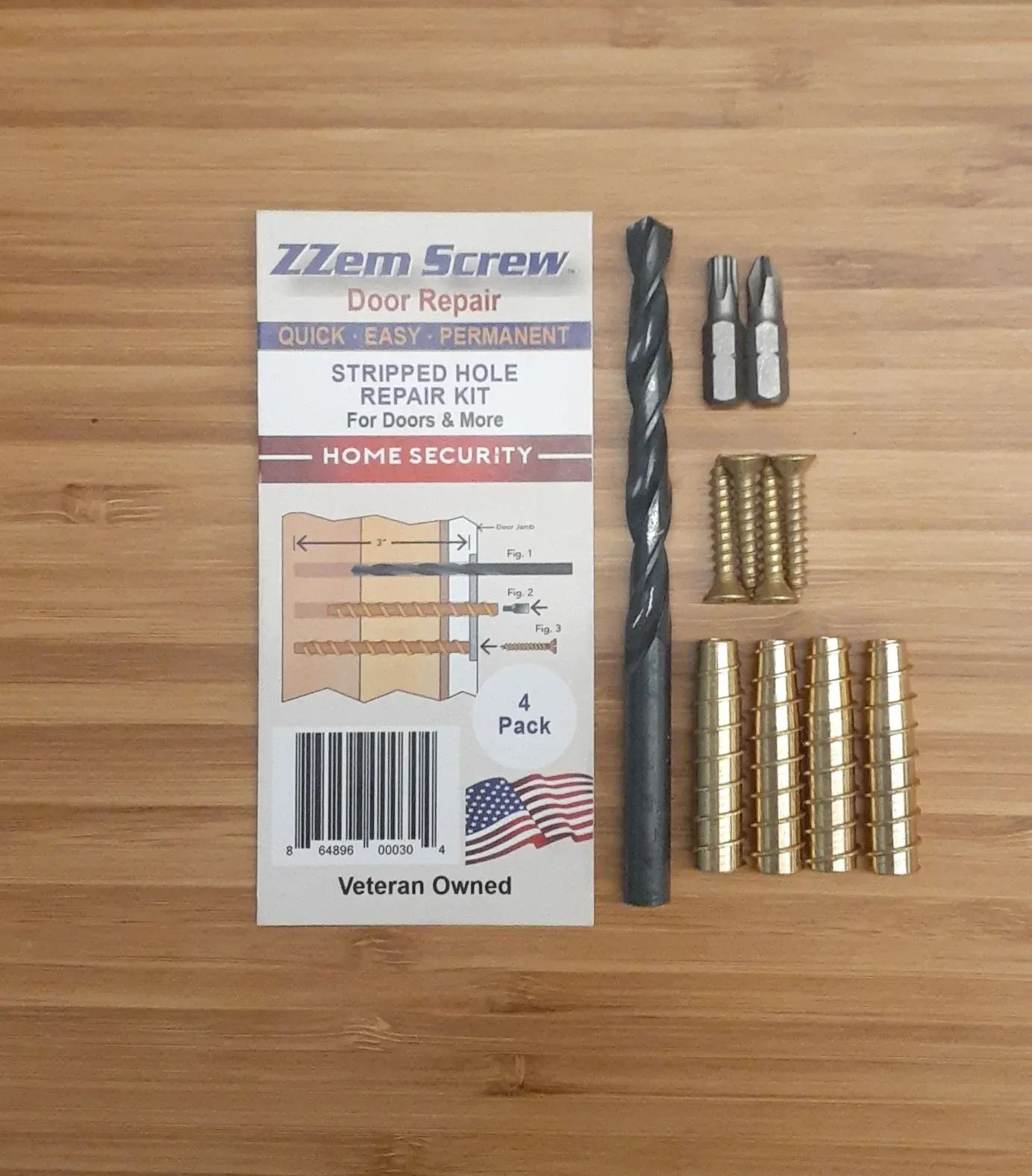 WHAT'S INCLUDED?
Each ZZem Screw Repair Kit includes everything you'll need, except a drill. There are multiple kit versions and sizes available, each for specific use cases.
Each kit includes:
ZZem Screws (of your selected size and quantity)
1 Drill Bit
1 Torx Bit
1 Phillip's Bit
Screws (size varies and quantity varies by your selection)
ZZem Screw Uses
Repair stripped hinge screws on door jambs and doors.
Strike plate security.
Dead bolt security.
Gate hinges and latches.
Handrail brackets.
Door security.