Installation: Step-by-step
Open door as far as possible (this makes it easier to work on)
Support the door. Use a wedge a block, shoe, or anything under the door so it will not move up or down, (this makes it easier to reinstall the hinge).
Remove the screws and hinge hardware. Either the jamb side, or door side. ZZem screws can be used on either!
Drill out the existing screw hole. Use a smaller drill bit for the pilot hole, this helps with accuracy. Mark the provided 5/16" drill bit at 3", then drill to the 3" mark. Set the drill to low speed, take your time.
Screw in the ZZem Screw. Use the provided Torx bit. Use a power drill when installing, set to a low speed. Screw in the ZZem Screw until it's just below the surface.
Replace your hinge using the provided #9 hinge screws. Use a Phillip's bit (included), and make sure to set the clutch on the drill so you do not strip the head of the screw.
ZZem Screw is also designed to use the same #9 hinge screw that comes with your hardware, we supply a brass finish with our kits. The #9 hinge screw is available at most all hardware stores (or online) in all finishes that will match your hardware finish.
How to tell if your hardware uses a #9 screw, the head of the screw measures a hair over 5/16" (.330")
ZZem Screw is for wood and wood byproducts only.
How does it work?
See the graphic below which illustrates how the ZZem Screw (bottom) dramatically increases the depth of attachment of the hinge or strike-plate to the door frame. ZZem Screw can be used to reinforce hinges, strike plates, deadbolts, and more.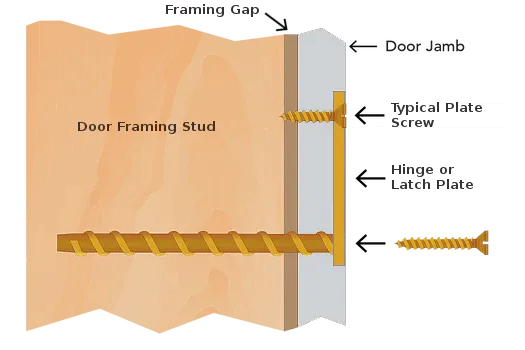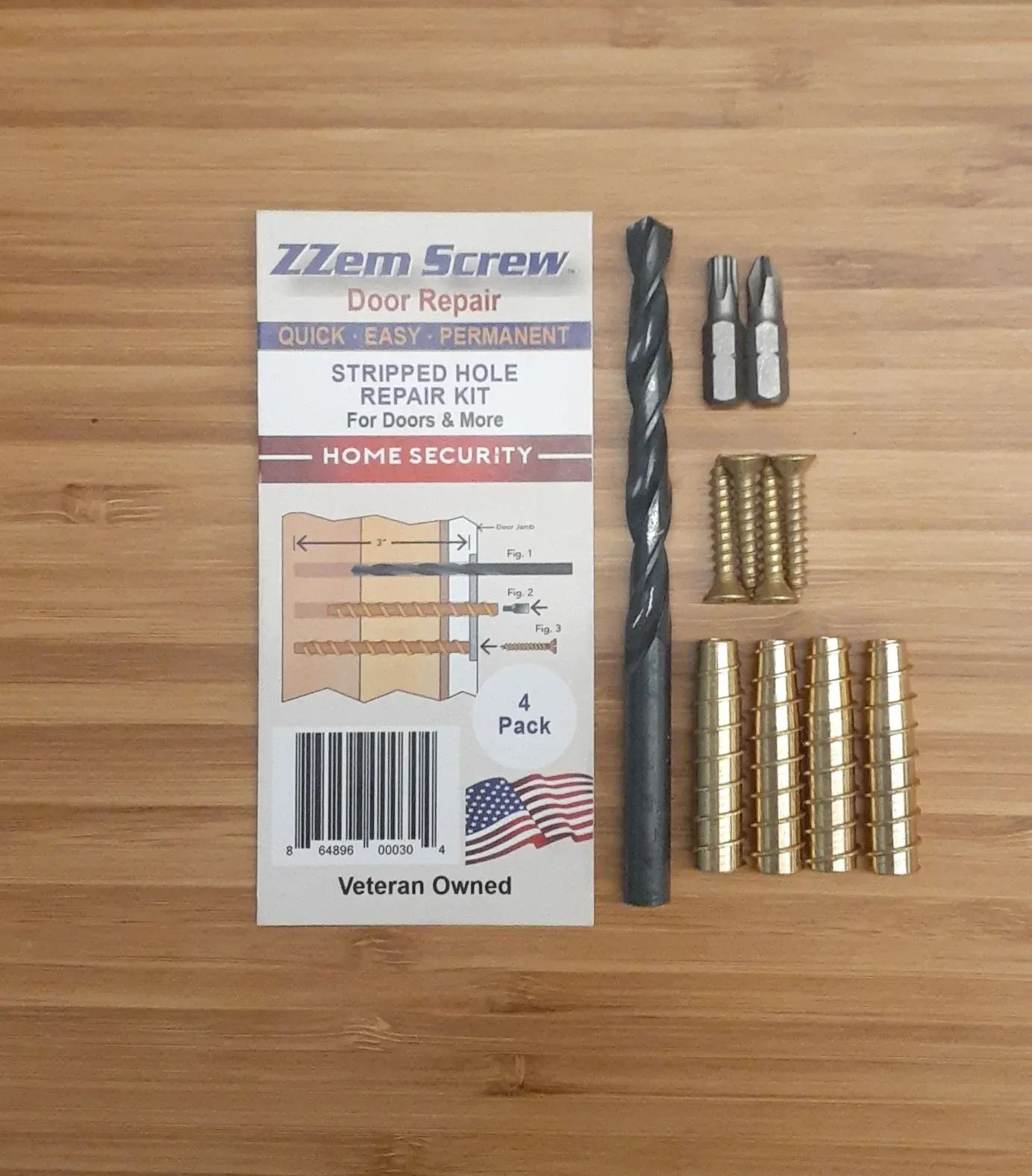 WHAT'S INCLUDED?
Each ZZem Screw Repair Kit includes everything you'll need, except a drill. There are multiple kit versions and sizes available, each for specific use cases.
Each kit includes:
ZZem Screws (of your selected size)
1 Drill Bit
1 Torx Bit
1 Phillip's Bit
Screws (size varies by kit)
ZZem Screw Uses
Repair stripped hinge screws on door jambs and doors.
Strike plate security.
Dead bolt security.
Gate hinges and latches.
Handrail brackets.
Door security.
Reviews
5 out of 5 stars

Great solution, easy to install if you have a little sense. Reviewed in the United States on April 15, 2020 Item Package Quantity: 12Verified Purchase Great solution for blown-out hinge screw-holes. Used on a pantry door with a rack on the inside, probably weighs 50 pounds. Door is completely straight, no drag on the latch at all.

Chelsea Blance

All I can say is WOW WOW WOW

I tried the toothpick and golf tee, trick and non of them really worked or lasted long. I was destined to find a solution so I went on google and did some searching and I am across your product on Amazon. I was still a big skeptical but I bought it anyways. All I can say is WOW WOW WOW!! It worked perfectly and it's as strong as can be now. Such an amazing idea and solution to a common problem.

Joey F.

I wouldn't hesitate at all to try these out

Kudos to the creator of this product. It's high quality, made in America, and the packaging says it was invented by a veteran. That's a triple win in my opinion. I wouldn't hesitate at all to try these out.

Damon Keele

One of the best product

Worked perfectly!!! One of the best products I've bought, Would highly recommend and would definitely buy again.

Brian